Venice Italy Weather
Venice Italy Weather update.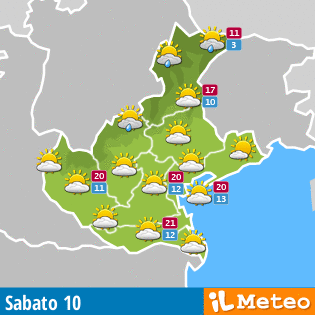 This is a real, current wheather map -in Celsius degrees - of the VENETO region (like a STATE in the USA but not quite, Italy is still NOT a federation of states,...yet. In fact there is a lot of political debate from a the LEGA party, a major and new group of politicians sprung up after the end of the "second Republic" in the early 1990s, to change the Italian constitution from State to federation....
At the time of writing (January 2011) there is the possibility that the Camera dei Deputati will vote for the beginning of this gradual transformation: the tax will become a federal one....if the current governement headed by Berlusconi will stand the odds...
Italy has been in turmoil since....ever!
Anyhow, lets move ahead. AHve a look at the following interesting chapters.
WHEATHER FORECASTS
LOCAL (ITALIAN) WEATHER FORECAST
This is the best local "METEO" (this is how it is called in Italian) for Venice (Venezia).:
OK, I see. It's in Italian but it's quite self intuitive to read.
Here a Fahrenheit - Celsius converter.
But here a "human" , personal explanation of the Celsius degrees:
| | |
| --- | --- |
| Below 0 Celsius | Penguins Nation |
| 0 Celsius | Freezing point |
| 0 - 5 Celsius | Bitterly Cold |
| 5 - 10 Celsius | Cold, typical Winter |
| 10 -15 Celsius | Cool, Spring time begins |
| 15- 20 Celsius | Cool-warm, still need a light pull-over |
| 20- 25 Celsius | Warm, pleasant, T-shirt time |
| 25 -30 Celsius | Hot, ice creams galore |
| 30 -35 Celsius | Very hot, unplesant |
| 35 -40 Celsius | Heat waves |
| over 40 | Sahara...but possible also in Italy, occasionally! |
Check Italy National Weather Forecast on the state TV (RAI) channel for Venice Italy weather!
USA BASED
Here below is another way...(in case the link above is not working).
VENICE, ITALY - WEBCAM
From the Comune di Venezia webpage (refresh every 8 seconds)
CLIMATE IN VENICE - GENERAL INFO
Venice is hot and humid in Summer and bitterly cold and humid in Winter.
Like most of Northern Italy, at about 45 degrees latitude, Summer days are very long, 15-17 hours (sunrise at about 5:30 sunset: 22:30, Summer time) and Winter days are short, 10-11 hours (sunrise at about 7:30 sunset at about 17:30).
The best moments to visit venice are the months of April to May, and perhaps also early June.
September is also excellent.
VENICE MOVIES - so you see...
However, Venice during Winter is also very romantic. A famous movie by Lucchino Visconti with Dirk Bogart,Death in Venice
, was made in 1971, the movie is set in a Winter Venice landscape which creates a perfect mood for the inward-oriented theme of the movie.
(for totally different atmospheres you will remember two movies, The Italian Job
and Lara Croft - Tomb Raider not to mention the James Bond franchise with Moonraker
, From Russia With Love
and the latest Casino Royale huff, sorry for the long list - but definetely not exhaustive at all!)
---
Return from Venice Italy Weather back to the homepage
Return back to Venice homepage
[
?
] Subscribe To This Site
.